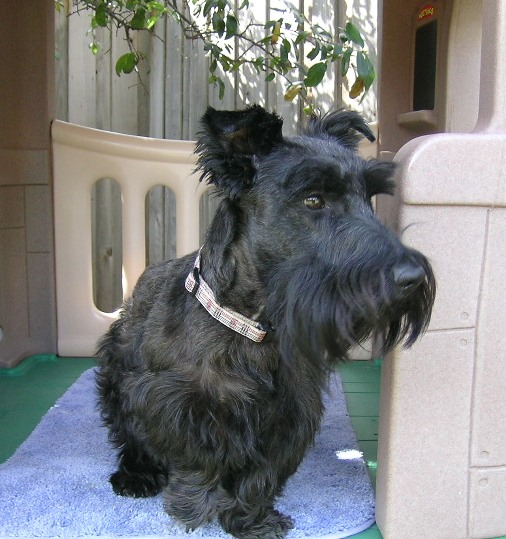 Here I am Today!
---
And here is how I used to be...
Stuart was rescued from a high kill shelter. He was tagged as having an injured rear leg, which put him in even more danger. Thankfully, we were able to talk to the shelter and discuss the possibility of Stuart having Scottie cramp or some other kind of neurological problem, so he was transferred to Scottie Kingdom Rescue for medical care and re-homing.

After Stuart visited our local veterinarian, he was then seen by a neurological specialist. It was determined, without a $1,500.00 CAT scan, we may never know the exact cause of Stuart's problem, but nevertheless, it is not repairable, so the CAT scan would be a waste of our limited resources.

He has now been groomed, with all of the heavy matting and debris removed, so we can have a better look at his skin, to see if there's any treatment necessary.

With everything Stuart has been through, he still hasn't lost his ability to love. He has thanked three of our volunteers for caring for him, simply by giving some of the sweetest doggie kisses you can imagine!

Stuart is fully capable of living a full life in a forever home. His walking capabilities are a bit 'off', but otherwise, he is one of the most adorable, loving Scots you will ever meet.

In the meantime, if you are able to help us with Stuart's Care, please donate what you can to help him and all of our other Rescue Dogs. We are not able to save the lives we do, without your help. Thank you!

You may also mail your Tax Deductible Donation to:

Scottie Kingdom Rescue, Inc.
P. O. Box 551265
Dallas, TX 75355-1265


All dogs adopted by Scottie Kingdom Rescue have had a full medical exam by our Veterinarian and have received all necessary vaccinations, in addition to being spayed/neutered and microchipped. Because we want to assure you of the health of our adoptable pets, we include a 30 day pet health and accident insurance policy, at no cost to you.

Scottie Kingdom Rescue is a 501(c)3 Non Profit Organization. We prefer to adopt to families with past Scottie, Westie and/or Terrier experience, but realize this isnít always possible.

We do not ship our pets. If you have that special place in your heart & in your home for a Scottie (or any of our other available Rescue Dogs), please be prepared to visit us in Dallas for an in person meet & greet session with our Available Dogs.

If you have existing dogs, they must travel to Dallas with you, so we can be assured that they will be compatible with the new addition to your family.

Please contact us at Rescue@scottiekingdom.com to receive an Adoption Application or for more information on our Adoption process. Also, please take the time to visit our website www.scottiekingdom.com for further information.

We sometimes receive several applications on the same dog. Our goal is to place the dog in the best home possible based on his/her needs, personality and past history. Please note that adoptions are NOT done on a first come, first serve basis. Submitting an application does not guarantee the adoption of any dog. We are looking for the best possible home for each of our rescue dogs.

Thank you for your understanding, and for considering adoption!

---

Our organization offers 24PetWatch microchips, which include free registration into the 24PetWatch pet recovery service. For more information call 1-866-597-2424

This pet also comes with 30 days of pre-paid pet health insurance. For more information please visit www.sheltercare.com or call 1-866-375-PETS.