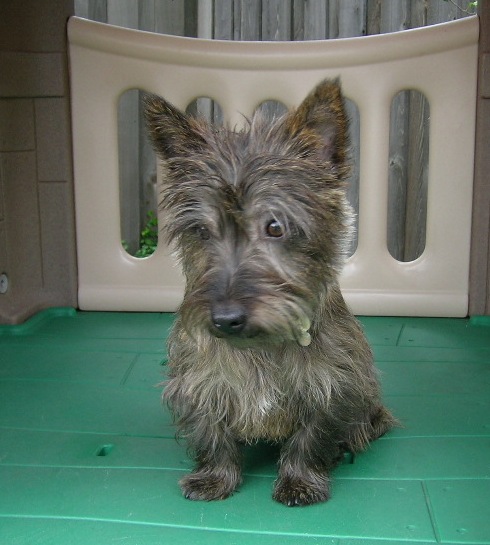 *** UPDATE ***
sEBASTIAN HAS FOUND hIS Forever Home !!!
Sebastian has just joined us at Scottie Kingdom Rescue. He is certainly a happy young man and has the most beautiful Brown & Gold Brindle Coat. We believe he is approximately 1 year old.

Unfortunately, Sebastian's life didn't start out so well, as he was kicked in his front leg and evidently sustained a break which was never repaired. Consequently, at times Sebastian walks with a slight limp.

We have now made an appointment with a Veterinary Surgical Specialist who will take X-Rays of Sebastian's leg and then make appropriate suggestions for his future care.
*UPDATE* Our Veterinary Surgical Specialist has seen Sebastian and has recommended no action being taken at this time, however, there may be a time in his life that some type of surgical intervention may be necessary.

Scottie Kingdom Rescue is a 501(c)3 Non Profit Organization. We prefer to adopt to families with past Scottie, Westie and/or Terrier experience, but realize this isnít always possible. You must have a secure & fenced yard.

We do not ship our pets. If you have that special place in your heart & in your home for a Scottie (or any of our other available Rescue Dogs), please be prepared to visit us in Dallas for an in person meet & greet session with our Available Dogs. If you have existing pets, they must travel to Dallas with you, so we can be assured that they will be compatible with the new addition to your family.

Please contact us at Rescue@scottiekingdom.com to receive an Adoption Application or for more information on our Adoption process. Also, please take the time to visit our website www.scottiekingdom.com for further information.

Thank you for considering Adoption!