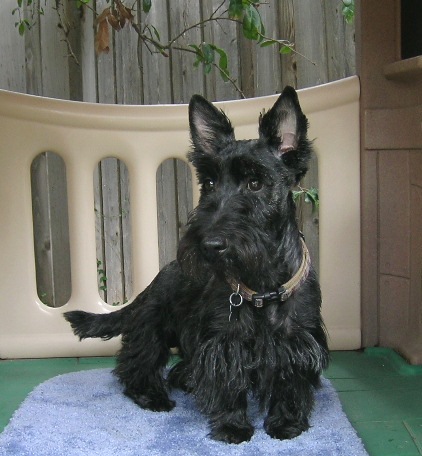 November, 2008
March 3, 2008
It's hard to beleive that these photos are of the same dog.
After just a few months of medical care, lots of high quality food, vitamins, and buckets full of love, Kayne is ready to find his forever home.
And what a handsome Scot he is!
We beleive Kayne is apprxomiately 3 years of age. He has a beautiful black and silver brindle coat.
---
These photographs were taken on March 3, 2008. Kayne had just been rescued from a shelter and was in obvious discomfort from his inflamed skin, open bleeding sores, eye infections, ear infections, intestinal parasites (hence the bloating of his belly) and an open bleeding tumor behind his left ear.
While in his foster home (out of state), Kayne's skin began to improve, yet other problems began to appear. The tumor behind his left ear continued to cause him discomfort, and his foster mom began noticing three others, one on his leg, another near his lower eye lid, and a third on the inside of the base of his tail. At this point, we made the decision to transfer Kayne to Dallas, in case we needed to take him to any of our wonderful Veterinary Specialists that are available here.
After arriving, Kayne was rushed to our Vet for a physical exam, additional blood tests, skin scrapings, and fecal testing. Once he calmed down from his long journey, Kayne was scheduled for surgery to remove at least three of the tumors on his body. A veterinary pathologist found all of the growths to be benign!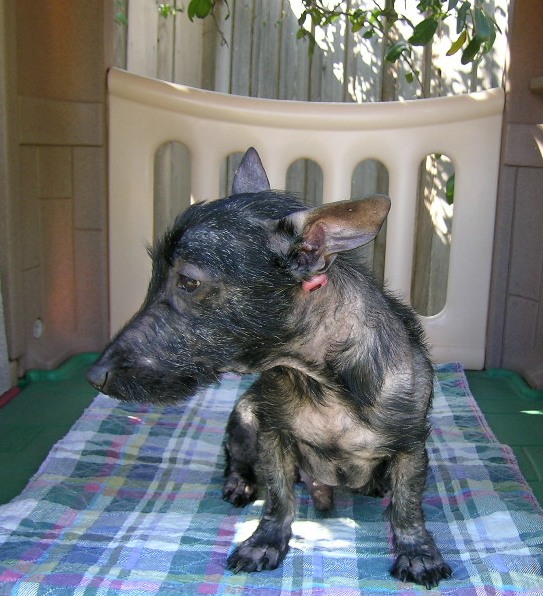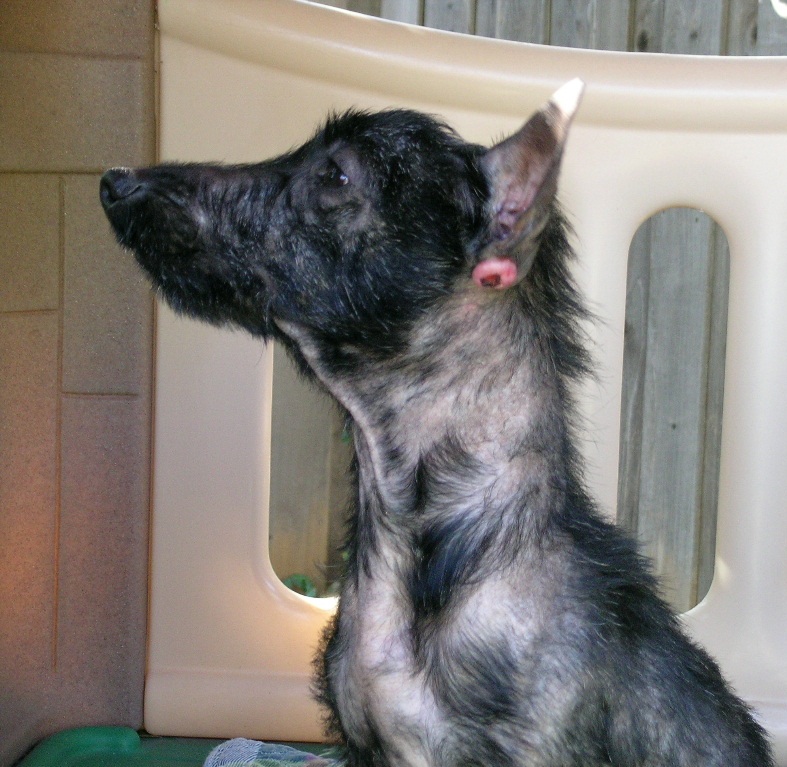 Costs to Date: $665.00

If you are able to help us with the high costs of his continuing care, Kayne would be so appreciative!

Thank you for caring!

You may also mail your Donation to:

Scottie Kingdom Rescue, Inc.

PO Box 551265

Dallas, TX 75355-1265

All dogs adopted by Scottie Kingdom Rescue, Inc. have had a full medical exam by one of our licensed Veterinarians, and have received all necessary vaccinations, in addition to being spayed/neutered and microchipped. Copies of all available medical records are transferred to you when the adoption is finalized. Because we want to assure you of the health of our adoptable pets, we include a pre-paid 30 day pet health and accident insurance policy, at no cost to you.

Scottie Kingdom Rescue, Inc. is a 501(c)3 Non Profit Organization. We prefer to adopt to families with past Scottie, Westie and/or Terrier experience, but realize this isnít always possible.

We do not ship our pets. If you have that special place in your heart, and in your home, for a Scottie (or any of our other available Rescue Dogs), please be prepared to visit us in Dallas for an in person meet & greet session with our Available Dogs.

If you have existing dogs, they must travel to Dallas with you, so we can be assured that they will be compatible with the new addition to your family.

Please contact us at Rescue@scottiekingdom.com to receive an Adoption Application or for more information on our Adoption process. Also, please take the time to visit our website www.scottiekingdom.com for further information.

We sometimes receive several applications on the same dog. Our goal is to place the dog in the best home possible, based on his/her needs, personality and past history. Please note: Adoptions are not done on a first come, first served basis. Submitting an application does not guarantee the adoption of any dog. We are looking for the best available home for each of our rescue dogs.

Thank you for your understanding, and for considering adoption!