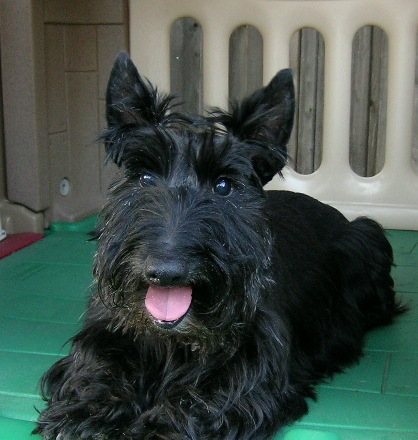 1998 - 2009
Rest in Peace Chance
---
We have always known Chance was special. Very special. It amazed us that even though he couldn't see, nothing stood in his way. He could sense steps, sniff out a person from across the room, run and play, and most of all, he could love. This handsome Scot came to us from out of state, when deemed "unadoptable" by so many. His life at risk, we chose to help him and bring him to Dallas, initially hoping to correct whatever issues were causing his sudden loss of sight. But in the end, he had permanently (and totally) lost his sight. We had always felt that Chance was indeed adoptable, yet so many passed him by. But one day, his special family came, and fell head over heels in love with Chance. Even after he went to his new home, his new parents wrote to us often, always amazed that no one else had seen how special he was. Chance had found his "Forever Home", along with a female Scottie who quickly bonded with him.
Recently, Chance began limping. After several tests and x-rays, a biopsy was ordered. The results were devastating. Chance had been diagnosed with an extremely aggressive bone cancer. In just a few weeks, he traveled to the Rainbow Bridge.
Our collective hearts are breaking and will for quite some time. A very special dog has left us, yet his paw prints are embedded in the hearts of so many.
His human mom wrote to us a few days after Chance was gone, and her words about him will remain with us forever. She said:
"I knew that I'd had a magical relationship with this precious boy. It meant the world to me. He just looked into my eyes as if he could see me."
Travel well, our special boy. Travel well.
---